Bus Blog: The Center for Worker Justice of Eastern Iowa
On Wednesday September 30, the Nuns on the Bus virtually visited the Center for Worker Justice of Eastern Iowa. The Center for Worker Justice (CWJ) was founded to unite low-wage workers in Eastern Iowa across race and immigration statute to achieve social and economic justice through education, direct services and community alliance. The CWJ prioritizes defending worker's rights, improving housing options for low-income residents, and providing assistance to those affected by immigration policies.
During the virtual conversation, Sister Simone Campbell was joined by the Interim Executive Director Mazahir Salih, the CWJ President Marcela Hurtado, the CWJ Vice President Kamel Elgiseer, the CWJ Leader Bijou Maliabo, the CWJ Leader and Board Member Margarita Baltazar and community organizer Mayra Hernandez.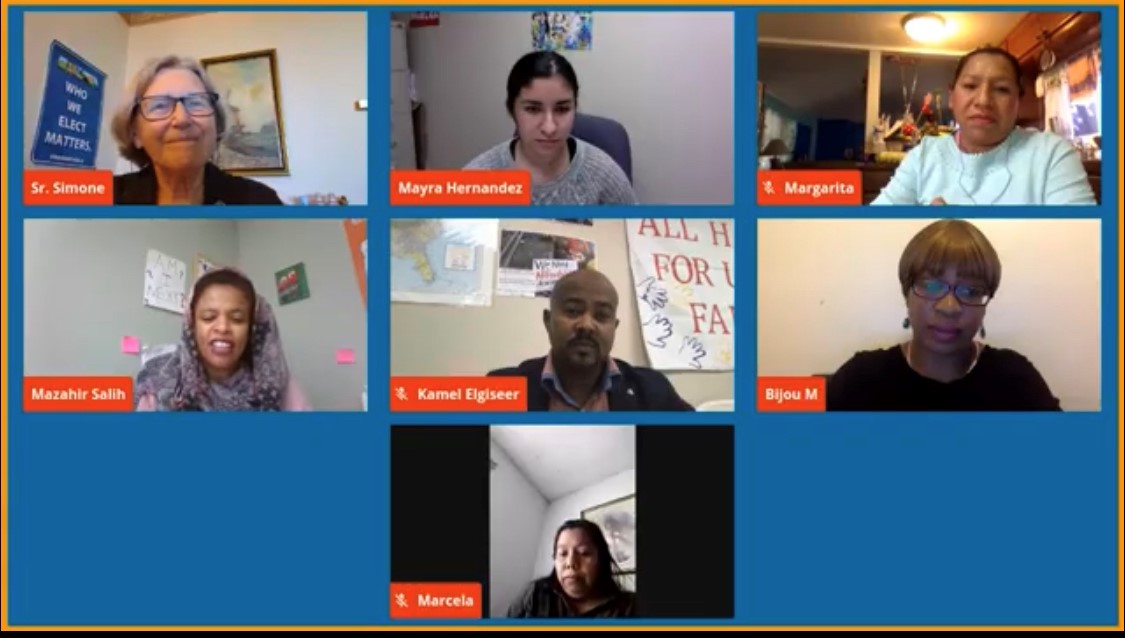 Since its founding in 2012, the CWJ has had several campaign victories such as establishing the first Midwestern Community ID program for Johnson County. Community IDs are important as they allow for people to access library cards, open bank accounts, acquire medication, and create a sense of belonging.
The CWJ also works to raise the minimum wage. Mazahir Salih shared her story saying, "When I came to this country back in 1997, I worked as a cashier at McDonald's and they paid me minimum wage which was $5.25. In 23 years, the federal minimum wage has only risen $2." In order to combat this injustice, the CWJ organized that the county level to raise the minimum wage to $10.10. However, the state of Iowa argued that individual counties could not raise their own minimum wage, so the CWJ created and tracks local businesses that have committed to a $10.10 wage.
Beyond organizing, the CWJ also focuses on education. As CWJ President Marcela Hurtado said "we want to educate the community to know their rights!" as well as "educate our white neighbors, who may think we [immigrants] are all the same." The immigrant experience is broad and those who are most vulnerable are those who do not have access to government resources and language accessible resources. However, as the virtual conversation demonstrated, the Center for Worker Justice of Eastern Iowa is about meeting the needs of the people and if there is a need they will respond.
Watch the Nuns on the Bus site visit to The Center for Workers Justice of Eastern Iowa to learn more. Watch on Facebook or YouTube.