Build Anew Series — Part 6

Democracy
Welcome back to our

Build Anew Series,

with weekly posts covering the people, policies, and values at the heart of the issues we work on. This week, we're talking about democracy.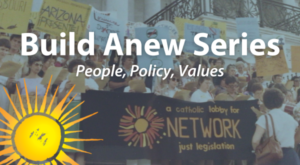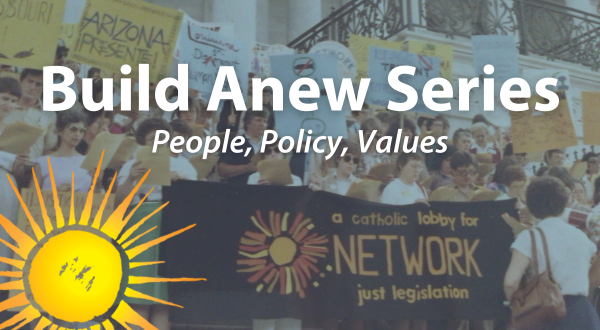 This past weekend, NETWORK held the third iteration of our White Supremacy and American Christianity event series, with Fr. Bryan Massingale, Dr. Robert P. Jones of the Public Religion Research Institute, and NETWORK's Joan F. Neal — this time joined by Darcy Hirsh from Interfaith Alliance and Laura Peralta-Schulte, NETWORK Senior Director of Public Policy and Government Relations.
Fr. Massingale and Dr. Jones articulated how Christian nationalism and white supremacy (we cannot talk about one without the other) suppose that America belongs to white Christians, who are therefore entitled to its control and its resources — and justified in achieving that control through violent means. Our speakers explained that white supremacist Christian nationalism is a "consistent ethic of hatred" that benefits only a specific subset — "the right kind" — of white folks. This hostile ethic, predicated on exclusion and hierarchy, is fundamentally anti-democratic.
In seeking to concentrate power in the hands of a select few, Christian nationalism and white supremacy pose an urgent threat to democracy today. While this threat to democracy is growing, it isn't new. Systemic racism has worked to disenfranchise Black and Brown voters for centuries. The restriction of voting rights, gerrymandering, the undermining of election integrity, and the unchecked role of corporate money in politics all weaken democracy and threaten free and inclusive political participation.
The weakening of democracy in the U.S. is part of a larger trend of marked decline of democracies worldwide. Pope Francis has lamented this decline with urgency, affirming that "Universal participation is something essential; not simply to attain shared goals, but also because it corresponds to what we are: social beings, at once unique and interdependent." Catholic Social Justice emphasizes the sociality and the dignity of each human being, which means that each person has a right to a say in the decision-making processes that affect their lives. What could it mean for our democracy to be oriented towards participation, encounter, the common good, and truly collective decision-making?
Facts and Figures on Democracy in the U.S.
Between 2016-2018, after the Shelby County v. Holder Supreme Court decision,

at least 17 million voters

were purged from voter rolls. Counties with a history of voter discrimination continue to purge voters at a much higher rate than other counties.

Research demonstrates

that strict voter ID laws significantly increase the turnout gap between white voters and Latinx, Black, and multiracial voters.
As of 2020, 5.17 million people — one out of 44 adults, and 2.27% of the total U.S. voting-eligible population — are

disenfranchised due to a current or previous felony conviction

. Over 6.2 percent of the adult Black American population is disenfranchised, compared to 1.7 percent of the non-Black population. It is estimated that over 560,000 Latinx Americans are disenfranchised, and approximately 1.2 million women are disenfranchised, comprising over one-fifth of the total disenfranchised population.
Present Realities
While democracy is much more than what happens on election day, even the right to vote, our most basic method of democratic participation, is not fully realized. Voting rights in the U.S. are under assault at the state and federal levels.
In particular, election policies continue to deliberately undermine Black and Brown voter participation. Since the 15th Amendment codified the right to vote for Black American men in 1870, state and local governments have continued to pass discriminatory laws to disenfranchise voters. One in 16 Black Americans of voting age is disenfranchised, a rate 3.7 times greater than that of non-Black Americans. Today, voter ID laws and restrictive voting rules disproportionately affect people of color, low-income and disabled voters, elderly and young voters, and voters who are unhoused.
The 2013 Shelby County v. Holder Supreme Court ruling gutted Section 4(b) of the Voting Rights Act of 1965, dismantling protections that prevented states from disenfranchising voters based on race. Since then, Congress has failed to pass legislation to restore that oversight provided in Section 4(b), meaning that states are still able to enact racist restrictions without accountability. As a result of the Shelby decision, over 1,000 polling places have closed — again, disproportionately harming voters of color, rural voters, and voters with disabilities. According to the White House, since January 2021, 18 states have enacted 30 separate laws that will make it more difficult to vote. What's more, over 400 bills that would make voting less accessible, including restrictions to voting by mail and early voting, as well as voter roll purges, have been considered in various state legislatures in recent years.
Varied methods of voter suppression, in addition to the undue influence of corporate money in politics, gerrymandering, felon disenfranchisement, and other anti-democracy tactics limit political participation, particularly for our most marginalized community members. States that make voting harder or redraw districts unfairly strip their neighbors of access to involvement in our collective political life. These efforts are serious threats to our democracy, that not only harm our communities' well-being but harm our ability to politically engage in the pursuit of our communities' well-being at all.
Lived Experience
Rabbi Bonnie Margulis, with Wisconsin Faith Voices for Justice, spoke about the 2020 Wisconsin primary at a Faithful Democracy Town Hall in April 2020.
"Our election on April 7th was a morass… The Thursday before the election, a federal court judge said that our absentee ballots did not need witness signatures, so people were sending in their absentee ballots without signatures because they were safer at home [during the pandemic] and didn't have any way to get their ballots witnessed. 24 hours later, that decision by the federal court was overturned by an appellate court, and so all of those ballots were invalidated. At least 750 ballots in Milwaukee alone were invalidated for lack of signature."
Rabbi Margulis explained that in Dane County, where Madison is, the county clerk said that if you requested an absentee ballot online you didn't need an ID. However, "That also was declared to be illegal, so people who didn't submit an ID couldn't get an absentee ballot." At the same time, "A federal court judge had said that absentee ballots could be postmarked as late as April 13th, and on April 6th (the day before the election) the United States Supreme Court overturned that and said no, ballots have to be postmarked by April 7th, the day of the election."
Further, in part due to a shortage of polling workers during the pandemic, "In Dane County, the number of polling places was reduced from 95 to 63. In Waukesha, a suburb of Milwaukee, the polling places were reduced from 13 to 1. But the most egregious was Milwaukee, which usually has 180 polling places, and it was reduced to 5." Rabbi Margulis emphasized that this was a blatant attempt to suppress the votes of people of color because Milwaukee has the greatest percentage population of people of color anywhere in the state.
Our Values
A core principle of Catholic Social Justice is that we all have both a right and moral responsibility to participate in our shared public life and political processes, as a matter of our dignity and agency. As the Leadership Conference of Women Religious states, "As women religious and believers in the abundant love of God for all, we are called to bring our faith and our voices to the public square."
This responsibility to participate means each person also has a fundamental right to participate and must be equipped with the resources needed to do so. The intentional curtailing of political participation by restricting voting, gerrymandering, and undermining elections is a serious moral failure and a threat to the free society we are called to build. We have a responsibility not only to participate in the democratic process ourselves but also to protect our most vulnerable neighbors' right to join in shaping our society.
But participation alone is not enough: political participation must be aimed at and committed to advancing the common good. The Catholic Catechism states, "It is necessary that all participate, each according to his position and role, in promoting the common good. This obligation is inherent in the dignity of the human person." The Catholic tradition also calls us to move beyond partisan politics in our pursuit of justice and social transformation. The US Council of Catholic Bishops writes,
"As citizens, we should be guided more by our moral convictions than by our attachment to a political party or interest group. When necessary, our participation should help transform the party to which we belong; we should not let the party transform us in such a way that we neglect or deny fundamental moral truths or approve intrinsically evil acts. We are called to bring together our principles and our political choices, our values and our votes, to help build a civilization of truth and love."
Our democratic processes are a vehicle of participation in the public realm, which is where our Catholic obligation to cast our nets wide in cultivating social solidarity, loving one another, and working for the good of others happens. Scriptures tell us, "There should be no division in the body, but that its parts should have equal concern for each other. If one part suffers, every part suffers with it; if one part is honored, every part rejoices with it" (1 Corinthians 12:25-27), and "So in Christ we, though many, form one body, and each member belongs to all the others" (Romans 12:5). The political arena is where we are called to act as the body of Christ, honoring each of its parts, alleviating suffering anywhere. And just as Jesus did not lead by force or concentrated power but spoke of casting down mighty rulers, we are called to assert the strength and needs of our communities, always opposing the imposition of authoritarian, unilateral rule — the kind of government to which Christian nationalism points.
The Catholic tradition affirms that public service is a noble vocation, but only when it serves justice and the flourishing of life. Elected officials must be accountable to all our people, especially the most vulnerable among us, and center the needs of real communities—not the interests of wealthy donors and corporations. In Fratelli Tutti (66), Pope Francis reminds us that we are called to direct society to the pursuit of the common good, and policies and laws that allow unlimited money in politics threaten this democratic and moral obligation. We are called to uncover these workings of wealth and power ("Take no part in the unfruitful works of darkness, but instead expose them" (Ephesians 5:11)) and institute justice in their place.
We know that there are alternatives. Catholic sisters, for example, have long modeled "contemplative dialogue, deep listening, and mutual respect" in consensus-based, collective decision-making processes that serve as an example for our political life at large. A democracy is not a democracy unless it is a culture of participation, encounter, and solidarity with those on the margins, in which our communities can work together to solve problems and meet needs. Transforming our politics and working for a multi-racial, multi-faith, and anti-hierarchical society in which all our communities can thrive is the real meaning of democratic participation — our right and responsibility.
Take Action
WATCH: Watch "White Supremacy and American Christianity: A Consistent Ethic of Hate Threatens Our Democracy" to learn more about the threats that Christian nationalism and white supremacy pose to democracy, how it shows up in current policies and legislation, and what we can do protect our democracy.
SIGN: Tell President Biden that the U.S. needs an H.R. 40 reparations commission. In this installation of the Build Anew Series, we've talked about how systemic racism operates through our political system. Support a reparations commission to help transform our politics into a multiracial, multifaith democracy.
LISTEN: Listen to a recent episode of the Just Politics podcast, "Actual strategies for saving democracy," in which Rachel Kleinfeld reflects on why democracy in the U.S. is in decline and names some steps we can take to protect it.
READ: And, check out this reflection by NETWORK Advocate Bob Kloos on his experience as a poll worker.