Build Anew Series — Part 7

Criminal Legal System
Welcome back to our

Build Anew Series,

with weekly posts covering the people, policies, and values at the heart of the issues we work on. This week, we're talking about the criminal legal system, and the urgent need for reparations.

 

 
Part 7 – Criminal Legal System (below)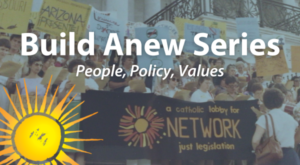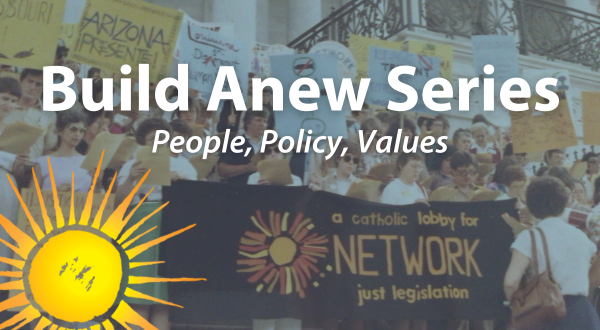 The United States incarcerates a greater percentage of its population than any other nation in the world. Stop and let that sink in. In a nation with this extreme incarceration rate, where migrants and refugees seeking safety are placed in cages, and where millions of people — especially people of color — are ripped from their communities and locked up for years or decades, we must ask if the U.S. is really "the land of the free."
The U.S. criminal legal system targets impoverished, working-class, and Black and Brown communities — seen in who and how the system polices, arrests, prosecutes, sentences, and even executes. In reacting to real social need with surveillance and criminalization, the system fosters instability and insecurity, and furthers the cycles of crime, violence, and poverty. Under the 13th Amendment, incarcerated persons can still be forced into labor for little to no pay. As a result, mass incarceration, which disproportionately locks up Black and Brown Americans, is the primary system of racial segregation, oppression, and coerced labor of our time.
Prisons and cages are incongruous with the Gospel message of true community. No human is disposable. The prevailing ethic of punishment (including capital punishment), separation, and imprisonment is not justice. We are called to a fuller picture of true justice — one characterized by community accountability, integration, healing, and well-being for everyone in our country, with no exceptions.
Present Realities
Since the end of legal slavery, U.S. criminal legal policies have targeted people of color, especially Black Americans. Professor Michelle Alexander writes, "Like Jim Crow (and slavery), mass incarceration operates as a tightly networked system of laws, policies, customs, and institutions that operate collectively to ensure the subordinate status of a group defined largely by race." The "tough on crime" movement of the 1980's gave way to policies, like the The Violent Crime Control and Law Enforcement Act of 1994 (the "1994 Crime Bill"), which caused widespread over-criminalization, mass incarceration, and police militarization. Years of "tough on crime" policies and a focus on punishment rather than community healing have targeted already vulnerable communities, worsening racial inequality and creating cycles of poverty for many individuals, families, and neighborhoods. Financial incentives for drug arrests have encouraged over-policing in Black and Brown communities, who are left with disproportionate numbers of folks with criminal records (mostly for minor non-violent offenses) and face ongoing brutality from the police.
The U.S. has the highest percentage of incarcerated people in the world, largely a result of extreme sentencing measures such as mandatory minimums and "three strikes" laws. Even non-violent offenses can result in years in prison and continuing restrictions and penalties after release. Disparities in sentencing policies for comparable offenses, such as using powder cocaine vs. crack cocaine, have yielded vastly longer average sentences for people of color compared to white folks. The ongoing use of cash bail and barriers to accessing adequate legal defense trap low-income people in the system. And, the practice of referring kids (usually Black and Brown children) to the youth justice system for misbehavior at school has facilitated a "school to prison pipeline" that disrupts the lives of children and perpetuates cycles of incarceration.
Within U.S. prisons, the inhumane practice of solitary confinement, disproportionately used for people of color and people with mental illnesses, persists — along with other dangerous living conditions, especially during the COVID-19 pandemic. Moreover, the U.S. is the only Western nation that still implements the death penalty and ranks fifth in the world in executions.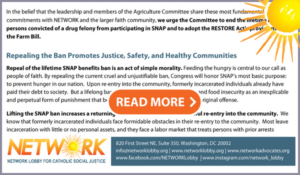 A person convicted of a crime in the U.S., whether or not they serve time in prison, suffers long-term discrimination in employment, education, and public services. Requirements to "check the box" on employment applications and prohibitions against licensing in certain fields cost formerly incarcerated people both the immediate income they need and their long-term earning potential, which hurts not only themselves but also their families and children. Returning citizens face restrictions in accessing federal student aid, health care, the right to vote, public housing (which impacts family reunification), and nutrition programs like SNAP. These policies all contribute to the cycle of poverty for families and communities.
Facts and Figures on the U.S. Criminal Legal System
Our Values
The murders of George Floyd and countless others are examples of the systemic violence committed every day by our country's "justice" system. Our people cry out for change. We cannot tolerate the loss of another generation to mass incarceration. Our legal system's punitive, "tough-on-crime" mentality perpetuates poverty, instability, and a dehumanizing ethic that harms us all.  
A legal system predicated on control, alienation, and racial subjugation stands in complete affront to the restoration, inclusion, peace, and racial justice into which the Catholic faith calls us.  Throughout the Bible, God moves to set free the imprisoned: "The Lord has anointed me to bring good news to the poor; he has sent me to bind up the brokenhearted, to proclaim liberty to the captives, and the opening of the prison to those who are bound" (Isaiah 61:1).  In Matthew's Gospel, Jesus says that when you visit people in prison, you visit him. 
Further, the Psalms proclaim that God looked at Earth to "hear the groans of the prisoners, to set free those who were doomed to die." Pope Francis has clearly stated that the death penalty is "an attack on the inviolability and dignity of the person" that is "inadmissible" in all cases. The Catholic Church is unequivocal in opposition to capital punishment, which in the world today is needless, state-sanctioned murder that perpetuates vengeance, violence, and militarism. Moreover, the death penalty is a mechanism of white supremacy, disproportionately executing Black Americans and our siblings with mental illness.    
We are rooted in our faith in a God not of punition, retribution, and abandonment, but of healing, mercy, and transformation. We are called to extend these graces to one another. To be truly just, our legal system must affirm the human capacity for reconciliation, reintegration, and reconnection. Even further, we must recognize the ways in which racist constructions of "crime" and oppressive social conditions undergird the punitive carceral system.
During his lifetime, Jesus did not look away from social problems and the people they affected, but moved into encounter and was an agent of healing. In his example, we cannot cast away our neighbors behind cell doors. As Angela Davis articulates, 
"Prisons do not disappear social problems, they disappear human beings. Homelessness, unemployment, drug addiction, mental illness and illiteracy are only a few of the problems that disappear from public view when the human beings contending with them are relegated to cages." 
The Catholic teaching of the immeasurable worth of each human being means that no one is disposable. We cannot let illusions of disconnection — "us vs. them" narratives — keep us from responding to the suffering in our prisons: "Remember those who are in prison, as though in prison with them, and those who are mistreated, since you also are in the body" (Hebrews 13:3). Salvation means wholeness, liberation, and communion. God does not leave a single person out of the circle of care, forgiveness, and restoration, no matter their past — and neither can we.  
Take Action: H.R.40 Reparations Study Commission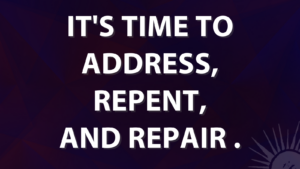 Throughout the Build Anew Series, we've been noting the operation of racism in and through our economy, our tax code, and our political, immigration, and even food systems. This week, we see that the legacy of enslavement is acutely visible in the system of mass incarceration. In conjunction with other social and economic barriers, our carceral system continues to chronically destabilize and tear apart Black and Brown families and communities.
All of this makes clear: we need reparations. The legacy of enslavement persists today. Structural racism keeps communities from accessing the housing, health care, food, economic stability, safety, and political participation we all deserve and need to thrive. As a country, we need reparations in order to move towards repair, transformation, and liberation for all of us.
Catholics are called to be agents of peace, healing, truth-telling, and justice. Take action here by telling President Biden to use his executive power to establish an H.R. 40 reparations study commission. Together, we can work for reparations and take a crucial step towards true healing, democracy, and flourishing in our country.
Join us again next week for part eight of the Build Anew Series on health care. And don't forget to stay tuned on Instagram (@network_lobby) and Facebook for our Build Anew video series!