Build Anew Series — Part 8

Health Care
Welcome back to our

Build Anew Series,

with weekly posts covering the people, policies, and values at the heart of the issues we work on. This week, we're talking about health care, and the dangerous Medicaid "unwinding" going on in many states.

 

 
Part 8 – Health Care (below) 
Part 9 – Housing (coming after Thanksgiving!)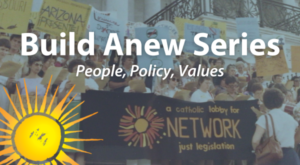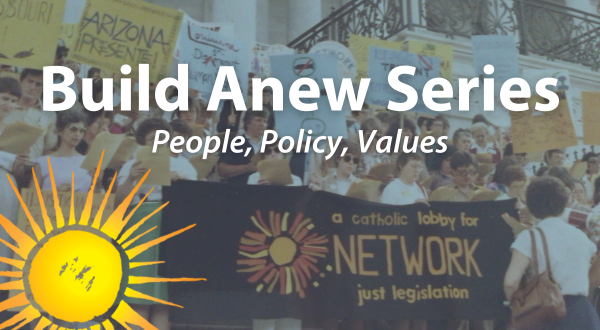 In 1966, Rev. Dr. Martin Luther King Jr. said, "Of all the forms of inequality, injustice in health is the most shocking and the most inhuman because it often results in physical death." These words still ring true in the United States, where many die each year because of a lack of access to health care. Millions of people in the U.S. are uninsured — a number that is rising with the ongoing Medicaid "unwinding" (more on this below) — and even more cannot afford the cost of needed medicine or health services. This "injustice in health" is felt most strongly by people of color, low-income families, immigrants, disabled people, and members of the LGBTQ+ community who, because of structural barriers to health, face lower life expectancy, higher mortality rates (especially maternal mortality rates), and higher rates of chronic diseases.
Access to health care is a fundamental human right that all people deserve as a function of their dignity. The Catholic tradition is emphatic that no person's life is of greater worth or value than another's — meaning that it is a grave moral wrong when people with wealth have privileged access to needed health care, medications, and treatments. Our families should not have to choose between life-saving medical care, and putting food on the table or paying the rent.
The COVID-19 pandemic made acutely clear the reality that our health is tied together. By building anew our health care system, we can improve the wellbeing of our society as a whole.
Present Realities
We have seen too many family members, friends, and neighbors die from a lack of care and critical medicines. Before the COVID-19 pandemic, more than one out of 10 adults in the U.S. knew at least one friend or family member who had died without needed medical treatment because they were unable to pay for it. For people of color, that number is one out of five. Let that sink in.
This is unconscionable — especially in a nation as wealthy as the U.S. Everyone deserves access to health care and prescription medications, but our sinful lack of affordable, comprehensive health insurance and the pharmaceutical industry's exploitative behavior blocks access to needed medicines and care. It's no surprise that the leading cause of bankruptcy in the U.S. is medical bills. The soaring costs of health insurance and medical bills, and the egregious raising of prices on needed everyday medicines, reflect an immoral effort to profit from our universal need to be taken care of when we are sick—or to simply live with chronic conditions.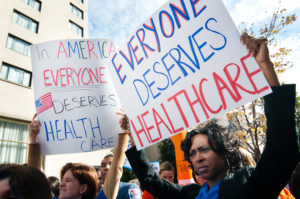 We also deserve the time to heal from illness and to care for sick loved ones and children without risk of losing our jobs or critical income — which means that paid sick days and medical leave are indispensable. According to the Center for American Progress, the U.S. is the only "industrialized" nation that does not guarantee paid sick days and family and medical leave. This failure to guarantee paid medical leave most acutely impacts lower-income families and the communities who are already most vulnerable in our society.
The U.S. suffers from immoral health disparities, which the COVID-19 pandemic made worse. Black, Latinx, and Native Americans became sick with COVID and died at higher rates than white people across the U.S. But even before the pandemic, because of systemic racism, people of color in this country have long suffered higher rates of mortality and disease (including heart disease) and lower life expectancy than white Americans. A particularly urgent example of these disparities is the Black maternal mortality crisis. Adverse health outcomes are also closely tied to poverty, which is one of the most significant social determinants of physical and mental health.
In addition to one's ability to access health care, socioeconomic factors like housing, employment status, incarceration, food security, environmental safety, and education all determine a person's health. This underscores how health care justice is a comprehensive issue that requires accessible and affordable health care, but also justice and transformation across multiple racial, social, and economic dimensions.
Racial and class health disparities are not only unjust and immoral, but they harm everyone. The pandemic made even clearer how our health is tied together: we are all put at risk when any of us is without insurance, access to affordable care, or the ability to take off work when sick or caring for a sick loved one. To end health inequities and promote our common well-being, we must build our unjust healthcare system anew, and ensure that each of us has what we need to best care for our bodies.
Facts and Figures on Health Care in the U.S.
In 2019, 28.9 million people were uninsured for health care. 27 million people lost access to employee-sponsored health insurance as a result of losing their job

during the pandemic

.
As of 2018,

uninsured Black Americans are more likely than white Americans

to fall in the coverage gap in states that have not expanded Medicaid, as are undocumented immigrants who face eligibility restrictions.
There are vast racial and ethnic disparities in health outcomes, including in

heart disease mortality rates

. Even before the COVID-19 pandemic, the life expectancy of Native Americans — who are also more likely to be uninsured — was

5.5 years shorter

than other Americans.
Lived Experience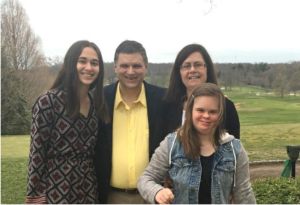 Maura, the second daughter of Joe and Rita McGrath of Lafayette Hill, Pennsylvania, was born with Down syndrome. Now 17 years old, Maura continues to be the blessing her parents have always known her to be. In addition to Down syndrome, Maura is nonverbal and has been diagnosed with autism. As a minor living with disabilities, Maura qualifies for Medicaid benefits. Even though Joe and Rita both work, the cost of Maura's healthcare is too expensive for their family to afford on their own.
An integral part of Maura's wellbeing is the care Maura receives from her beloved home health aide Williamina. Taking care of Maura is a full-time job and looking after her became more difficult for Rita after fighting cancer. Additionally, Joe has Parkinson's disease. Medicaid provided the necessary funds for the McGraths to hire assistance.
In addition to a home health aide, Maura needs eight different medications, medical equipment and supplies (such as her wheelchair and diapers), and frequent doctor appointments. Medicaid covers the cost of these needs. Without Medicaid, the McGrath family would be in financial ruin. The cost of Maura's medicine alone would be several hundred dollars every month. These are expenses that the McGraths, and many families in similar situations, would be unable to afford without the help of Medicaid.
The principles of Catholic Social Justice teach us that all human life has value. Cutting Medicaid benefits would take away critical healthcare that Maura and many other people deserve. Healthcare is a human right, not a privilege. Medicaid caps or any cut in Medicaid benefits would prevent people from accessing healthcare that is critical to their survival. The McGrath family deserves the peace of mind that comes with knowing they can provide care for their daughters. We are one another's keeper and Medicaid provides access to care every human is entitled to.
Adapted from text written by Emma Tacke, NETWORK Grassroots Mobilization Associate  
Our Values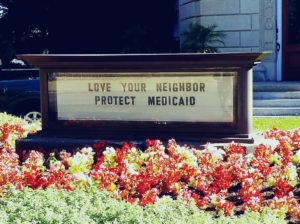 The Catholic tradition affirms that each person has a right to the care their bodies need to thrive. The right to access care when you get sick, the medicine and support you need to live with chronic conditions, and the preventative care to keep you healthy, are human rights that we all need and deserve.
Pope Francis says, "Health is not a consumer good, but rather a universal right, and therefore access to healthcare services cannot be a privilege." The Catholic faith proclaims the ultimate worth of life as infinitely more important than profit—thereby condemning the egregious immorality of over-pricing and profiting off of life-giving medicines and health care. Access to medical services should never be contingent on a person's ability to pay. At the center of the Catholic faith is the belief that all lives are of equal and immeasurable value. Therefore, allowing those with fewer means suffer or even die while those with wealth access the treatments they need to live is an affront to the Catholic view of the human person.
Throughout the Build Anew Series, we've explored how the Catholic tradition is clear that resources are to be shared and used to meet needs — especially the needs of our most vulnerable neighbors. Funds raised to pay for health care through our tax system should help promote public health by expanding health care access. Moreover, the price of health care should not rest on those who have the least — those who are able to pay more, must contribute more.
To love our neighbors means to care for their bodies — ensuring that we all have food, water, clothing, safe shelter, and good health care. Health care services provided through insurance must be comprehensive, and include preventative, primary, acute, mental health and long-term care services. Compassionate and affordable health care that meets needs and tends to the whole person serves to nurture the dignity of everyone in our communities.
Take Action: Why Medicaid Should be Expanding, Not "Unwinding"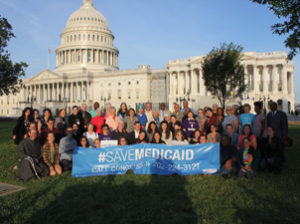 Medicaid is our country's main system of health care coverage for low-income individuals, children, and families, as well as older and disabled adults. Under the Affordable Care Act (ACA), families and individuals earning less than a certain percentage of the federal poverty level are eligible for Medicaid. Today, there are still state governments refusing to opt-in to this expanded coverage for people on the brink of poverty. Lawmakers in those states who deny access to health care for families and individuals struggling in poverty are responsible for keeping their states' residents from life-saving care.
As a new report from UNIDOS explains, many COVID-19-related Medicaid protections expired on April 1, 2023, allowing states to redetermine eligibility and begin terminating families' Medicaid. In many states, this has enabled a devastating process of Medicaid "unwinding," with unprecedented numbers of people losing coverage. The most frustrating part is that most people losing Medicaid are still eligible. They have only lost coverage because of simply missing paperwork or other red tape barriers. This unwinding is particularly affecting Black and Brown communities, as it is estimated that over half of the people losing Medicaid are people of color.
If this unwinding continues, we will be facing an ever-growing and unconscionable health care disaster. Medicaid must be available to all who are eligible, without work requirements or other burdensome restrictions. Investing in our health is critical and benefits all of us. Our elected officials should expand this vital health care program immediately, so that all of us can access the health care we need and deserve.
TAKE ACTION: learn more by reading the full report here: Six Months into Unwinding: History's Deepest Medicaid Losses Demand State Action.
Join us again next week for part eight of the Build Anew Series on housing. And don't forget to stay tuned on Instagram (@network_lobby) and Facebook for our Build Anew video series!