Sam Murillo
November 22, 2019
To Immigration and Customs Enforcement of the United States:
Being young and undocumented is something that is rarely talked about. Many of us were brought here as children and have been raised just like you. We were raised with the same education and we have the same dreams. Yet we grow old and realize that we are not like the rest. We realize that we do not have the same opportunities, but the only difference between me and you is that I am undocumented. While you go out and pursue your dreams for higher education, I will be rejected from the same school you were accepted to because of my legal status. This is the reality for hundreds of thousands of immigrant children, and while some are protected under DACA, there are still a significant amount of children and teenagers that remain unprotected.
Being young and undocumented brings an inexplicable fear. There is a constant fear for your life, and a constant fear of being ripped away from your family and the only country you know. We grow up living in our parents' fear, we grow up without access to healthcare because our parents are undocumented. We grow up fearing the police and knowing exactly who and what ICE does at a very young age. You rip our families apart, you hold our children hostage at the border, you rape our mothers and sisters, and you send us back to countries we know nothing about. We grow up hoping that when we come home from school, our parents will still be there. We grow up with fear and trauma that we can't even understand. We are hardworking people that contribute to the economy, our parents are contributing to this country, they dreamt first and until our parents are safe we will not step down. Our parents are the true Dreamers, and we shouldn't have to grow up in fear of losing them. We shouldn't have to grow up uninsured. We most certainly don't deserve to be denied from the same opportunities as everyone else. My parents deserve the chance to become citizens, I deserve to become a citizen, and there are many more like us that deserve that chance. Children are growing up in fear, families are being ripped apart, and as contributing immigrants of this nation we deserve nothing less than an opportunity. It is our duty to fight for our freedom and it is our duty to win!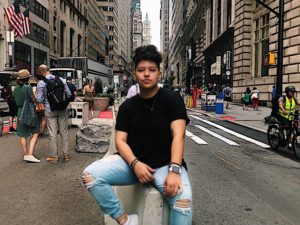 Sam Murillo is a 20 year old student at Trinity Washington University. She is originally from Jeffersonville, Indiana and her family is from Mexico. She is studying to become a doctor and wishes for structural change in the United States judicial system.