Champion For Families: In Conversation With Rosa DeLauro
NETWORK Staff
December 15, 2022
Numerous champions for Catholic Social Justice have walked the Halls of Congress since NETWORK's founding 50 years ago, but when it comes to advocacy on behalf of families, Rep. Rosa DeLauro (D-Conn.), who has served in the House since 1991, is both peerless and tireless.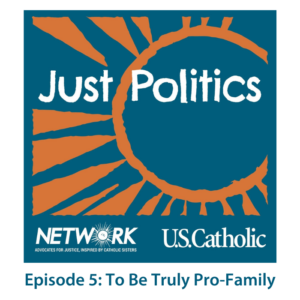 As chair of the House Committee on Appropriations, the Congresswoman is currently leading the push to get the Child Tax Credit (CTC) included with the legislation Congress must pass before the end of this session. On a recent episode of NETWORK's podcast, Just Politics, she explained why the CTC makes such a difference in the lives of families.
The following is an excerpt of that conversation:
NETWORK: Your background is in labor organizing, and you experienced poverty early on in your life. How do these experiences shape the work that you do as a member of Congress?
Rep. DeLauro: What has had the most effect on who I am, what I'm about, and what issues I take up has to do with being brought up in an Italian Catholic family, with a mother who was a union member and a garment worker in an old sweat shop in New Haven. She used to have me meet her there every day after school. It was a dark, noisy, dirty place, with women hunched over sewing machines. They never took a lunch break. They worked as fast as they could because you got paid by the number of dresses or shirt collars that you made. Oftentimes you would get the needle in your finger, but you never went to a clinic or got a tetanus shot, you just wrapped up your hand and kept going because you had to produce in order to provide for your family. I didn't realize until I was an adult that my mom had been showing me what the circumstances were for mostly immigrant women. So my work on workplace safety, minimum wage, and equal pay for equal work draws from that experience.
And, we were evicted when I was 9 or 10 years old—finding our possessions on the street because my parents had a tough time financially. We wound up having to live with my grandmother until we could get back up on our feet again. My parents would tell me, "Get an education, so that you don't have to do this." Coming from an immigrant family who believes education is the root to success, I want to make sure that we are funding education because it is the great equalizer for families.
All of these experiences propel me to work on the issues you talk about. Union organizing, equal pay, living wage, a child tax credit… that work doesn't come from just sitting in this institution for all these years. It comes directly out of my and my family's experience, which has been my guidepost.

NETWORK: You mentioned the Child Tax Credit, which you were able to get into the American Rescue Plan. We know that the CTC lifted 2.1 million children out of poverty in 2021. What pro-family policies are you currently working to get into Appropriations now?
Rep. DeLauro: We are not done with the CTC. It has been a lifeline for working, middle class, and vulnerable families. Some people demeaned these families by saying they wouldn't go to work if they got a child tax credit, or that they would spend the money foolishly. But what did they spend it on? Food, clothing, diapers, childcare so that they could go to work, mortgage payments, and rent payments. Now, we need to continue to fight for the CTC.
$1.3 trillion every single year goes through the various Appropriations subcommittees. There is so much contained within Appropriations bills that has a direct effect on children, families, and workers. Title I, special education, early childhood, childcare, health, nutrition, broadband, technical schools, worker training, apprenticeships, mental health… all of these are within the Appropriations Committee purview, and they've had years of disinvestment. So that's where I focus my time and attention. Our job is to make this government work for people.
With cost of living today, people are struggling, living paycheck to paycheck. During the pandemic, we saw women being pushed out of the workforce. Childcare was collapsing. These things are all integrated. It is our obligation—our moral responsibility—to address these issues so that we can have a safe and secure future.

NETWORK: You understand the intersection of labor issues and women's issues better than just about anyone. Here at NETWORK Lobby, we strongly support a national family and medical leave program that provides comprehensive leave with progressive wage replacement, job protection for all workers, and more inclusive definitions of family. Can you tell us what might the future hold for something like paid family leave?
Rep. DeLauro: No one decides to get sick, either themselves or their family. You're then faced with the choice of your family, your own health, or your job. I learned about family and medical leave from my work with Senator Chris Dodd. Though we could not at the time get it to be paid leave, it has been tremendously helpful. However, many cannot take advantage of it because they can't be without wages.
To tell you my own two stories, I was diagnosed with ovarian cancer in 1986. I said to my then-boss, Sen. Dodd, "I'm going to the hospital." I did not even know if I would ever return. He said to me, "Go get well, the job is here, your salary is here." We had three kids and we were paying for their school. And two and a half months later, I went back to work and never missed a paycheck. Fast forward to 5 years ago, my mother was very ill at 103 years old, and I spent the last six weeks of her life with her. Nobody said, "You're no longer a member of Congress." Now if this is good enough for a staff member of an enlightened U.S. Senator, or the institution which I now serve, then it's good for everybody else in this country. I introduced paid family and medical leave in 2013. We have made some progress on it, but we're not there yet. We are going to continue to move!

NETWORK: You wrote a book about how these issues relate to your Catholic faith, called "The Least Among Us: Waging the Battle of the Vulnerable." What do you wish more people of faith understood about what the Gospel demands of us in the work for social justice?
Rep. DeLauro: This is so, so important to me. The rich Catholic heritage is grounded in social justice and economic justice. Leo XIII didn't call it "social security;" he said that we have an obligation and a responsibility to take care of older people.
I was at Pope Francis' inauguration, and he said that those of us who serve in public life have an obligation to be like Saint Joseph—to take care of family, to be inclusive, to look out for one another. I stood in St. Peter's square with my colleague Rep. Anna Eshoo, and we were crying, because we have waited so long to hear those words. It's who we are. It's the ground that we stand on.
Everything that we do here impacts the wellbeing of people, and that is a responsibility. I end my book by recalling Robert Kennedy's call to action, which is the way I feel about my faith in government. In Robert Kennedy's words, "I believe that as long as there is plenty, poverty is evil. Government belongs wherever evil needs an adversary and there are people in distress." I dream of an American future where all agree that anyone's poverty is all of our business.
We have to continue to spread the word. I look forward to many more years of being an ally with you!
From NETWORK: Write a Letter to the Editor Supporting the Child Tax Credit