Centering Solidarity and Healing for Our Democracy
A Response to President Biden's 2022 State of the Union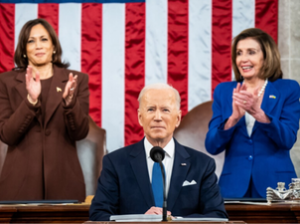 In his 2022 State of the Union, President Joe Biden addressed people across the country who are anxious and weary as Vladimir Putin threatens the use of nuclear force in his quest for more power and the COVID-19 pandemic continues to shatter a sense of normalcy, claiming close to one million lives in this country alone. President Biden named the pain felt by families and recommitted himself to supporting policies that benefit all families and communities. This vision is grounded in his faith, which prioritizes community and solidarity over individualism and greed. He illuminated a path forward for our national community, marked by dismantling long-standing racist policies and building both a vibrant economy that prioritizes shared prosperity and a truly representative, multi-racial democracy.
Shaping an Economy Rooted in Solidarity
In this time of increasing economic stratification, President Biden spoke forcefully about the need to reorient our economy with a new economic vision built on respecting and protecting the rights of workers and putting people over profits. Given rising costs facing families, his statement: "Capitalism without competition isn't capitalism. It's exploitation" likely resonated with many listeners. We know that ensuring jobs pay a living wage is one of the most effective ways we can uphold the dignity of work. I appreciated hearing the President's call to raise the minimum wage and for the Senate to pass the PRO Act to protect workers' right to unionize.
Building Anew and Protecting the Sacred Right to Vote
President Biden's commitments to advancing just policies in NETWORK's Build Anew policy areas are deeply rooted in the faith values of solidarity, community, respecting the rights of workers, and caring for creation; they include strengthening our democracy and voting rights; making our tax code more just; and, investing in communities by expanding the Child Tax Credit, affordable housing, and healthcare for all. NETWORK strongly supports these efforts to build a more justice union and looks forward to partnering with the Biden administration to achieve these goals. Together, we still have a great amount of work to be done, including passing the Freedom to Vote Act and the John Lewis Voting Rights Act, but we know it is possible by working together.
Confirming a New Supreme Court Justice
Another important step for protecting the rights of everyone in our county will be the Senate voting to confirm Judge Ketanji Brown Jackson, President Biden's nominee to the Supreme Court Justice. The NETWORK community celebrates Judge Jackson's nomination and the perspective she will bring to the highest court because of her years of service on the federal district court of D.C. and D.C. Circuit as well as her formative service as a public defender.
Defending the Lives of Immigrants and Asylum Seekers
While we commend President Biden clear commitments to advancing just policies for our economy and democracy, we continue to call on the President to be bold in his defense of asylum seekers at our nation's Southern border. The President was mindful in his speech about the importance of welcoming refugees fleeing Ukraine. Likewise, we call on the President to meet that mission here. Pope Francis has said each person seeking refuge "has a name, a face and a story, as well as an inalienable right to live in peace and to aspire to a better future." We ask President Biden to take heed of those words and end the cruel and unjust policies that he is perpetuating at the border, and end detention and deportation.
President Biden, our nation's second Catholic President, often credits the Jesuits and Catholic Sisters with keeping his faith strong. The vision he laid out in his State of the Union reflects a roadmap to rebuilding solidarity, based in encounter. As President Biden said "We can't change how divided we've been. But we can change how we move forward—on COVID-19 and other issues we must face together."  If we want to rebuild the soul of the nation, we must rebuild it together, with a broad embrace of our human family.