At the Care Not Cuts Rally in Erie, PA, Justice-Seekers Called for a Moral Budget
Mary Nelson,
Guest Contributor from the Erie NETWORK Advocates Team
June 8, 2023
On May 23, 2023, I gathered with a group of community and religious leaders in Erie, Pennsylvania for a "Care Not Cuts" rally. Speakers and attendees were advocating for a moral federal budget as House Speaker Kevin McCarthy and President Biden negotiated a bill that would raise the debt ceiling in exchange for significant cuts to critical human needs programs in our community. Over 60 people from the Erie community joined together to protect Medicaid, housing, and food assistance in our community.
Our Erie Advocates Team of NETWORK supporters had been following the federal budget negotiations with concern, hearing proposals of drastic cuts to the social safety net that aids Erie's vulnerable populations. Attempts by the House of Representatives to balance the budget on the backs of people living in poverty, while not raising taxes for the ultra wealthy and corporations, seemed a painful and immoral way to address the country's debt.
Erie is fortunate to have three orders of religious women (Sisters) who have served the community and northwest PA for decades: the Benedictine Sisters of Erie, the Sisters of St. Joseph (SSJ), and the Sisters of Mercy. They serve the people of God in Erie and the surrounding counties in a myriad of ministries and remind us of what it means to be in relationship with God and with each other. They lead by example to inspire and educate. They show up in all kinds of weather to protest, protect and advocate, and to call out the best in us. The Sisters demonstrate what a thriving community can become, if only we can be brave enough to work together and to care.
And so, on that sunny, warm spring day, most of the people who responded to NETWORK's call to attend the "Care Not Cuts" rally in Erie were Sisters and allies from the Erie area. One of the speakers was Sr. Dorothy Stoner, OSB, who works with refugees and people seeking job training at the St. Benedict Education Center. Sr. Dorothy shared about the extensive services the Benedictines offer, from food pantries and soup kitchens to environmental education and safe-space programs for children. She called out the irony of certain members of Congress seeking to cut funding for the very support of food, housing, and Medicaid, while insisting people work in such low-wage jobs that they are unable to afford food, housing, and healthcare!
Another speaker, Susannah Faulkner, who works for the SSJ Neighborhood Network and serves on the Erie City Council, noted that "The city of Erie's child poverty rate is three times higher
than the state and national average…[they are] trapped in this situation depriving them of opportunity, good health, and stability." If we believe that poverty is a policy choice, we should be able to mold a federal budget that is also a moral budget.
Betsy Wiest described how St Patrick's Haven, another ministry of Sisters of St Joseph that provides temporary overnight shelter and a ministry of friendship for unhoused men, was supported by the community after a fire last year. The proposed 2023 budget would strip a significant portion of their federal HUD funding, which provides emergency shelter for men with nowhere else to go, critical during Erie's frigid winters. She asked, "How is this practicing love of neighbor without distinction?"
Jennie Haggerty spoke to how the Mercy Anchor Center for Women was recently expanded at a repurposed Catholic elementary school. This transitional home for women and children also includes extensive support services for the community. Since 2017, none of their clients have become homeless again, which should be an indicator of its success in reducing homelessness and improving the dignity and employability of its clients.
Mayor Joseph Schember demonstrated his Catholic heart by sharing what the city is doing to address economic and racial inequities. He noted that evidence has shown that by providing housing and support services to people with addiction first — instead of requiring them to meet certain requirements before receiving assistance — gives people a better opportunity to turn their lives around and reduce chronic homelessness. New initiatives seek to revitalize long-neglected areas that will require federal investment but will recoup significant financial payback. There are local, state, and federal investment programs, neighborhood coalitions, and downtown partnerships which are primed to move us forward to prosperity and equality, if they are funded.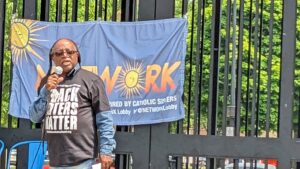 Gary Horton, of the Minority Community Investment Coalition, exhorted everyone to get involved politically, and like Congressman John Lewis said, to make good trouble. He said, "Democracy is on the line, and we must vote like our lives depend on it."  We must speak up for people who have been disproportionately impacted by bad policies that have created generational poverty, which is so evident in the divided and high poverty areas in Erie and the surrounding counties.
Their passionate pleas to protect federal funding for these programs that help vulnerable people in our communities  is a call to the rest of us to contact our legislators, to advocate for those whom some policy makers in Washington have ignored for far too long.
Together, by speaking out in support of federal safety net programs, and the local organizations that tend to our struggling neighbors, we can build thriving communities. "Care, not cuts," indeed.
Watch Video from the Care Not Cuts Rally in Erie, PA