Get Beyond 'Bandage' Work in the Federal Budget
David J. Dutschke,
Guest Contributor from the Kentucky NETWORK Advocates Team
October 13, 2023
We often talk about a "living wage." Now it's time to talk about a "living budget." A
On Monday, October 2, 2023, a group of about 15 persons of faith and action gathered under the NETWORK umbrella at the Mohammed Ali Center Plaza in Louisville, Kentucky to challenge our elected officials to pass a budget that includes those on the margins struggling to afford housing, meals, health care, and more.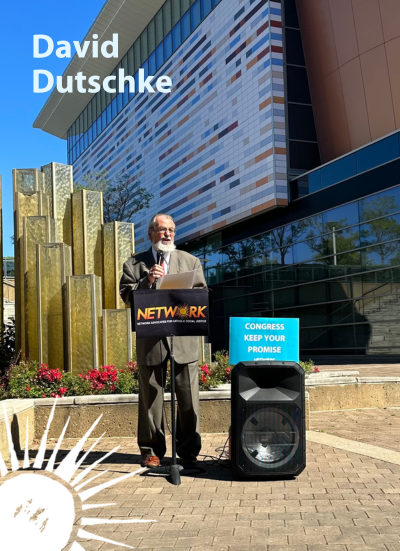 Speakers at our gathering included George Eklund, Director of Education and Advocacy, Coalition for the Homeless; Mary Danhauer, a retired nurse practitioner from Owensboro working in low-income clinics; the Honorable Attica Scott, former state Representative and Director of Special Projects at the Forward Justice Action Network; and the Rev. Dr. Angela Johnson, pastor of Grace Hope Presbyterian Church. They all spoke from different perspectives, but highlighted the fundamental role that you, me, and our government must take to provide for people in the margins. All of the speakers shared stories of the "bandage" work, or what I'd call charity or direct service work, that they do–myself included at St. Vincent DePaul. But all of us also emphasized the need for work to transform structures. The systemic change work that I do is with NETWORK and Clout (Citizens of Louisville Organized and United Together). And to start that systemic change work, Sr. Emily TeKolste, SP, an organizer with NETWORK, and leader of the Kentucky Team, provided very specific actionable items.
So here are some of my takeaways from our gathering: first, the largest provider of assistance to those on the margins is the U.S. people, at the direction of the federal government, in the form of rent assistance, housing programs like Section 8, SNAP, and Medicare assistance. We have to support these programs and ensure that Congress bolsters them, not slashes them.
Second, we don't have a living wage mandate. In Louisville, a family of 3 needs at least $66,893 per year of income. Translated to wages, they need one job that pays at least $32.16 per hour. We can talk about food pantries, shelters, assisted living spaces, assisting our neighbors with paying rent and utilities, but eventually one comes down to the question: how many jobs do you have to have to raise a family today? Third, we have to reject the myth of scarcity.
There are 5,671,005 Americans with a net worth of over $3 million. There is $381 billion in unpaid taxes. And there are 37.9 million persons in the U.S. who live in poverty.
Finally, we need to do both charity work and system change work. All together, we the people of the U.S., have the resources to pay our bills and to shrink the margins. Our federal budget is a moral document to help us move forward. Solutions require the change of the system. And to do that, we have to organize. In organizing work, we say that there are only 2 sources of power—organized money and organized people. We have the people.
David Dutschke, a member of the Kentucky NETWORK Advocates Team, is former director of Parish Social Ministry and Housing Development at Catholic Charities of Louisville.
Watch Video from Louisville, KY Rally for a Better Federal Government
We must act, always with others, to make the Good News of our communal action THE news. We are all challenged to make our policies, including our budget, a beacon of moving forward on this great shared cosmic journey on which the Cosmic God leads us. Peace be with you all.
                                                               ~David Dutschke