Why I Celebrate the Pregnant Worker's Fairness Act
Abby Kays
Guest contributor story of truth
October 24, 2023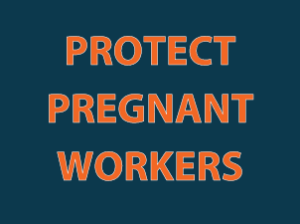 I have always been an advocate for things I believe in and part of my advocacy journey includes sharing my personal story to show why change is necessary. My account reveals the workplace harm I faced during my pregnancy and is a perfect example for why it was important for the Pregnant Workers Fairness Act to become law. I would love to say that my story is a happy one, that it is joyful and exciting–but it is far from it. 
I was working at a meat processing plant when I became pregnant. I was trained in almost every position and area of the factory. My supervisors put me on fast-paced jobs that required attention to quality control, lifting, packing, and bagging. There was constant movement, twisting, bending, and lifting boxes that weighed up to 100 pounds. Because I worked the second shift, my workday started at 3:00 PM. It was typically scheduled to end at 11 PM, but that rarely happened. Most of the time, I was given notice that I would have to stay for mandatory overtime about an hour before my shift ended.
I actually found out I was pregnant when a fork truck driver hit me at work. The onsite nurse sent me to the hospital to have my injuries checked out. Months before this incident, I'd suffered a miscarriage. It just so happens that around the time I was hit at work, my husband and I had begun to try again to conceive. We even discussed taking a pregnancy test after work that very day. Even so, when preliminary tests at the hospital revealed that I was pregnant, I was stunned.  The doctor told me that he couldn't administer a CT scan because I was pregnant. I had to have him repeat himself to make sure I heard him clearly.  Under his order, I was off of work until an OB/GYN examination. A few days later, the OB/GYN shared what I'd already suspected — mine would be a high risk pregnancy.  I knew because I had already had four miscarriages. But at about eight weeks along, everything looked good. I was cleared to work with a few restrictions:  no lifting boxes over 30 pounds, access to the restroom as often as possible, and light-duty jobs. Of course I turned that note into work upon my return.
Problems on the job
There were plenty of light duty jobs at the factory available to me that would have protected my pregnancy, such as moving small pallets to different areas, making boxes, packing smaller meat products, quality control inspections, and office work. They honored the OB/GYN's restrictions  at first, starting me on light duty jobs until they put me back onto my pre-pregnancy duties. If someone was fired, quit, or didn't show up to work, and they didn't have anyone else trained on the heavy-duty jobs I did before my pregnancy, they put me into their position. If I needed to go to the bathroom, I would have to relay messages to co-workers around me so they could spread the word to try to find a supervisor to give me permission to go to the restroom. If I was lucky, I could go a half an hour after I got the urge, but most of the time it would be hours later, when it was break time, before I could go. I ended up with urinary tract infections that required repeated doctor visits. There were several times I was given warnings for taking too long to go to the bathroom, or for not being back from lunch on time because I was getting sick in the bathroom due to morning sickness.
My Reminders Fell on Deaf Ears
I continued to remind the supervisors about my pregnancy-related restrictions but was ignored. When I suggested that they train other workers (who weren't pregnant) for the heavy-duty tasks, I was ignored. I offered to train other people, and was told that management would get someone else trained. This didn't happen. All I received were excuses–we were too busy or so and so called out sick–either way, there wasn't anyone else to do the job.
Five and a half months into my pregnancy, I was operating the strapper at the end of the packing line. It is usually a two-person job, but I was assigned to work alone. As my supervisor stood next to me, a fork truck driver ran into the machine and the machine hit my stomach and my supervisor's hip. My supervisor, who knew what I had already been through with my previous pregnancies, sent me to the nurse immediately.
I stopped in the bathroom on the way to the nurse and noticed bleeding. I recited the details of the accident to the nurse, and the supervisor confirmed the story. I told them both that them I was bleeding. Instead of showing concern for the baby, they told me I was fine and sent me back to work. I was told to return to the strapper–the same job I was working when I was hit.
About 20 minutes after I reported back to work, I was still in a lot of pain and the bleeding continued. I was concerned about a possible miscarriage so I went back to the nurse. I was sent back to work. 30 minutes later, I began to feel contractions every 10 minutes. My supervisor sent me back to the nurse who informed me that, once again, I was fine and sent me back to work.
When my contractions were about two minutes apart, and I was bleeding through my pants, I informed my supervisor that I had to leave. I also told the nurse who informed me that there would be negative consequences if I left. I left. At the hospital, I was rushed to labor and delivery where my contractions were confirmed to be real. They gave me multiple injections to stop the contractions. I almost lost my pregnancy because of the people in charge at my job.
When I returned to work, I had more pregnancy-related restrictions. This time, I discussed them with the human resources department prior to my return. HR agreed to the doctor's updated recommendations: a 10 pound weight limit on lifting items, limited bending, no kneeling or squatting,  restroom breaks as needed, and light duty work with the ability to sit if needed.
There were plenty of jobs in the factory that I could have done with a stool to accommodate the doctor's orders like, prepping bags for the lines, making boxes, making labels, and sorting. The day I went back to work I was informed that they were unable to work with my restrictions and informed that I was required to use all of my personal time off and start my FMLA leave immediately. I was also reprimanded (pointed) for leaving work and ignoring the nurse's order to return to work when I knew I needed to get to the hospital.
More Workplace Challenges After Baby's Arrival   
I was induced a month before my son's due date because of complications, but there were even more challenges after he was born. I was scheduled for a standard check-up at six weeks post-partum, but I was too sick with a high fever to go to the doctor. Unfortunately, this appointment fell during the Christmas season and rescheduling near the original appointment date was impossible. It would be a month before I could see the doctor. This impacted the day I was set to get back to the factory.
I contacted HR and let them know about my new post-partum check-up date and they informed me they would take care of it. I returned to work after being cleared by my doctor, I even had a  note from him. I worked for another month and a half before being called into HR for a reprimand.
I was informed that I was to be punished for leaving work after being hit with the strapper–the day I went to the ER with contractions and bleeding. I was also reprimanded for rescheduling my six-week post-partum appointment, which pushed my return to work date beyond the date that was documented when I left to have the baby. I was too sick to go to the doctor, and I couldn't go back to work until I visited the doctor–and to them, I was a bad worker who missed the documented return to work date.
Today, because of the new federal law, most pregnant people won't have to experience the challenges and struggles I experienced. The Pregnant Workers Fairness Act requires businesses to provide reasonable accommodations, like frequent bathroom breaks, time off for doctor's visits,  the use of a stool, and honoring doctor-recommended weight restrictions. To me, this is a huge, and very necessary, win for healthy pregnancies and healthy people.
Abby Kay (a pseudonym for the author who wished to remain anonymous while sharing her story) lives in Camden, Indiana and has graciously shared her story with NETWORK advocates. We are grateful that our faith-filled justice-seekers, who were persistent supporters of the PWFA, can read her story of truth. The PWFA took effect on June 27, 2023. To read the accommodations and limitations of the PWFA, visit the U.S. Equal Employment Opportunity Commission.