Cultivating Community on the Virtual Nuns on the Bus Tour
Back in April, when it became clear that we were going to be in this pandemic for the long haul and weren't going to have a cross-country Nuns on the Bus tour, I have to admit: I was filled with sadness and despair. How was NETWORK going to be able to make a difference in the most important election of my lifetime? How were we going to cultivate the community that we experience on the Bus? Soon though, thanks to my team's creativity, our members' and supporters' willingness to embrace Zoom and other technology to meet with their Members of Congress and attend workshops, and our partners' thoughtful virtual events that they hosted, we were able to muster up the enthusiasm and vision necessary to help create a month-long virtual Nuns on the Bus tour that held a total of 63 events in 16 states!
In some ways, the virtual nature of the Bus allowed us to do things that would have never happened on the road in real life. Our very large Bus would have never made it to the hollers of Southwest Virginia to visit the Health Wagon, where we met with Dr. Teresa Tyson and Dr. Paula Hill-Collins and learned about the innovation required for a mobile clinic to provide everything from dentures to cystoscopies to one of Central Appalachia's most under-served communities. We would not have been able to host 5 Dialogues Across Geographic Divides in Pennsylvania, Kentucky, Michigan, Ohio, and Wisconsin, which brought people together from rural communities, small towns, suburbs, and cities across a state to discuss the challenges they face and begin to find common solutions. Finally, folks from Utah would have never attended a Town Hall for Spirit-Filled Voters in Erie, Pennsylvania!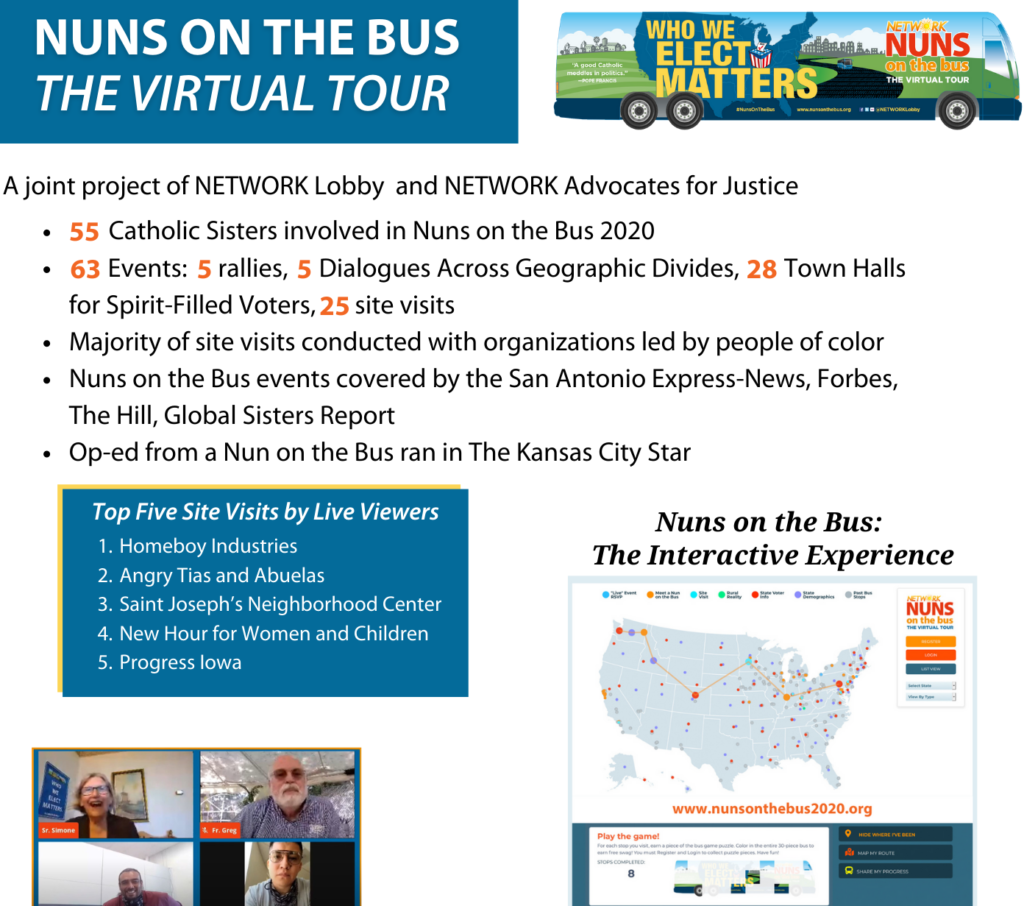 And we were still able to cultivate community. The sisters who "rode" the Bus with us met three times a week with Sister Simone for prayer and meditation. Nearly every night, Catholics and other people of faith gathered in Zoom break-out rooms and shared how their faith had led them to become multi-issue voters. At our Health Care Rally, seasoned advocates Elena Hung and Laura Packard welcomed Kristin Urqueza from newly-formed Marked by COVID, and were eager to connect with and support her. And to this day participants from our Wisconsin Dialogue Across Geographic Divides are continuing the conversation and supporting each other's activism.
So yes, our Nuns on the Bus Virtual Tour was unusual, but it still managed to be the perfect vehicle of justice and joy to show the nation that "Who We Elect Matters."
For more information, download the full NETWORK Election 2020 Report.