Category Archives:
Child Tax Credit

Ohio Advocates for the Expanded Child Tax Credit with a letter to Senator Portman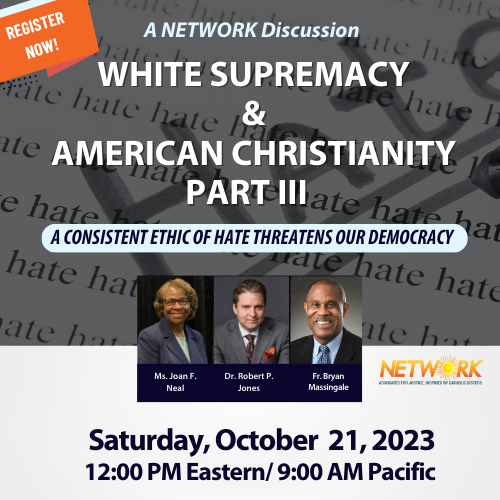 White Supremacy in American Christianity, Part 3

What Can You Do Today to Repel white Christian nationalism?
Tell Your Senators: Reinstate the expanded Child Tax Credit!
White Supremacy and American Christianity, Part 2
In October 2022, ethics professor Fr. Bryan N. Massingale and author Robert P. Jones participated in an enlightening conversation ahead of this year's midterm for an exploration on the influence of  White Supremacy in American Christianity on our politics. The conversation was moderated by NETWORK's Joan F. Neal.
White Supremacy and American Christianity, Part 1
In April 2022, NETWORK engaged experts working at the intersection of racism, nationalism, and Christianity for a conversation on the poisonous effect that White Supremacy has on American Christianity. Fr. Bryan N. Massingale, Dr. Robert P. Jones, and NETWORK's Deputy Executive Director and Chief Equity Officer Joan F. Neal were joined by Georgetown University's Dr. Marcia Chatelain.
Tell Your Senators: Reinstate the expanded Child Tax Credit!
No child should miss a meal because their family is struggling to make ends meet.
What is White Christian Nationalism?
NETWORK partner, the Baptist Joint Committee for Religious Liberty (BJC), released a joint project with the Freedom From Religion Foundation (FFRF) detailing Christian nationalism's prominence in the January 6 insurrection. In it, Amanda Taylor of BJC shares, "Christian nationalism is a political ideology and cultural framework that seeks to merge American and Christian identities, distorting both the Christian faith and America's constitutional democracy. Christian nationalism relies on the mythological founding of the United States as a 'Christian nation,' singled out for God's providence in order to fulfill God's purposes on earth. Christian nationalism demands a privileged place for Christianity in public life, buttressed by the active support of government at all levels.
Christian nationalism is not Christianity, though it is not accurate to say that Christian nationalism has nothing to do with Christianity. Christian nationalism relies on Christian imagery and language."
White Supremacy and American Christianity Guest Speakers
Darcy Hirsh is the Senior Director of Policy & Advocacy at Interfaith Alliance, (Part 3) where she leads the organization's policy work at the local, state, and federal levels, as well as its critical advocacy in the courts.
Dr. Robert P. Jones is the President and Founder of PRRI, and author of White Too Long: The Legacy of White Supremacy in American Christianity. Robert P. Jones speaks and writes regularly on politics, culture, and religion in national media outlets including CNN, NPR, The New York Times, The Washington Post, and others. Dr. Robert Jones's latest book is a New York Times best-seller. You can buy it here: The Hidden Roots of White Supremacy and the Path to a Shared American Future and follow Dr. Jones through his newsletter at https://www.whitetoolong.net/.
Fr. Bryan Massingale is the James and Nancy Buckman Professor of Theological and Social Ethics, as well as the Senior Ethics Fellow in Fordham's Center for Ethics Education and author of Racial Justice and the Catholic Church. Fr. Massingale is a noted authority on social and racial justice issues, particularly in Catholic spaces. Read Fr. Massingale's Op-Ed in National Catholic Reporter, "As the election cycle cranks up, Christians need to call out white Christian nationalism" and his keynote address at the 2022 Outreach Conference: "Intersectionality and LGBTQ Ministry"
Professor Marcia Chatelain, Ph.D., is the winner of the 2021 Pulitzer Prize in History (Part 1) her book Franchise: The Golden Arches in Black America. She is a professor of history and African American studies at Georgetown University and the leading organizer behind the #FergusonSyllabus, an online educational resource that has shaped educational conversations about racism and police brutality since 2014. 
You've Seen the Conversation, Now What Can You Do?
Note: These were actions to take after White Supremacy and American Christianity, Part 2 in Fall 2022.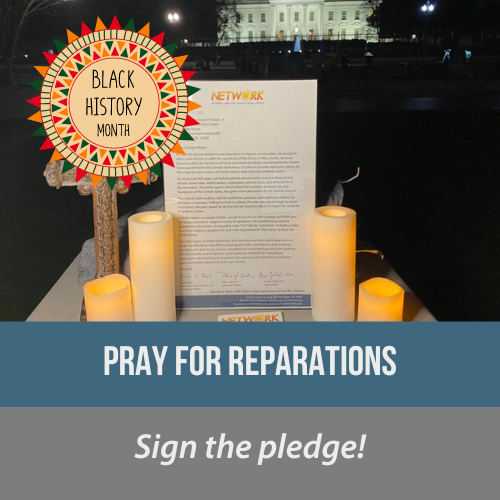 A federal reparations commission must be established by March 2023 to allow 18 months of work (as prescribed in H.R.40) to be completed without risk of a new administration disbanding it. We must pray!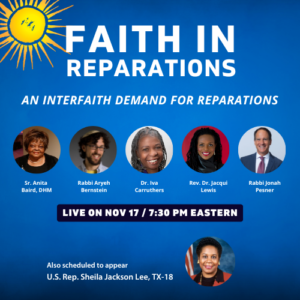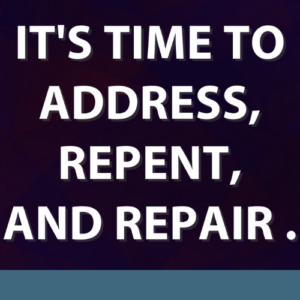 Learn why reparations are needed now. NETWORK staff and keynote speaker, Rev. Jacqui Lewis, Ph.D, tell us the history of H.R.40, give us Christianity's faith foundation for reparations, and help us learn to talk to friends and family about race and reparations. Reparations can heal the economic prosperity divide and lingering pain from Jim Crow, disenfranchisement, discrimination in tax policy, biased home lending, restrictive covenants and more.